About Chatham-Kent
Chatham (Populaton 43,690)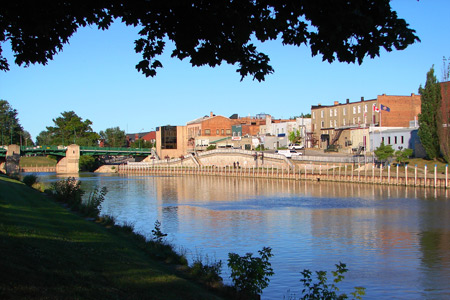 As the largest urban centre in Chatham-Kent, Chatham is a prosperous community with an eclectic blend of natural and created attractions.
Chatham is centrally located between Windsor, Sarnia and London and it is within a short driving distance to three major border crossings. Within a one-hour commute, Chatham-Kent reaches 950,000 Ontario residents, with 60% of the United States population within a six-hour drive.
Chatham is the central retail district for Chatham-Kent with 2.6 million sq. ft. of commercial businesses. A new cinema also compliments the centre; Wal-mart, Real Canadian Superstore, Home Depot, Best Buy and Staples are among the recent commercial projects in Chatham.
Chatham-Kent industries include the likes of MSSC Canada and Dana Canada. Union Gas Limited (a Spectra Energy Company) and Pioneer Hi-Breed Limited (a Dupont Company) both have their Canadian head offices in Chatham-Kent. Chatham is also home to a vibrant contact centre industry.
St. Clair College of Applied Arts and Technology-Thames Campus offers education and training programs for students, business and industries. St. Clair College operates a student residence in Chatham and operates the St. Clair College Capitol Theatre featuring a variety of live music, plus famous comedians, first-class musical theatre tours, professional children's shows, and much more. Chatham is also home to the Chatham Cultural Centre, a unique facility hosting a live theatre, art gallery and museum under one roof. There are four golf courses in and around Chatham ranging from a challenging private club to a 9 hole par three executive course.
The main campus of the Chatham-Kent Health Alliance is located in Chatham with an innovative partnership strategically designed to provide state-of-the-art health care into the next century. A second campus is located in Wallaceburg.
Chatham-Kent figures prominently on the province-wide Underground Railroad tour with many sites to visit. They include the self-guided exhibit Black Mecca: The Story of Chatham's Black Community, Chatham First Baptist Church, the Mary Ann Shadd Carey Ontario Heritage Foundation Plaque, and the Buxton National Historic Site & Museum.
With the scenic Thames River winding through its core, downtown Chatham offers opportunity to shop, play, eat and stay all within walking distance of this quaint turn-of-the-century setting. Specialty shops, riverfront dining, museums, galleries, performing arts venues and the unique accommodations of Retro Suites are set in beautiful restored Victorian architecture. Wall murals decorate many of the historic buildings in downtown Chatham. Currently in construction, Chatham-Kent's newest residential condo development, The Boardwalk has quality details and will rise 13 storeys above beautiful Historic Downtown Chatham. The Shopping mall, Downtown Chatham Centre, directly across the street, has recently added many upgrades and tenants.
Outside the centre, Chatham offers a choice of family destinations including TJ Stables horseback riding. The new Chatham-Kent John D. Bradley Convention Centre provides the professional setting to host large conventions and with the exhibition all provides a venue to accommodate virtually any event.