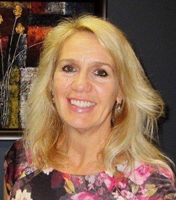 Gail Hundt, President & CEO

Tel: (519) 352-7540, ext. 22
Fax: (519) 352-8741
Email:
gail@chatham-kentchamber.ca
We have seen the Chamber, our community and the business environment change in many ways since my employ in 1995. Technology, amalgamation, business rules and regulations have changed the way our organization functions – all for the better. Our roster of members change as the face of business adjusts to new opportunities, expands on new markets and continues to reinvent itself.
Previous to my tenure with the Chamber, I was a long time employee with National Trust, hired as a 'teller' right from high school (with then, Lambton Loan). I continually participated in courses and activities to excel and gain advancement. Volunteering as a member business, I was led to the Chamber where I first hand noted the benefits to business - so much so, it sparked my interest when the opportunity came for my current position as President and CEO. Leaving National Trust as Branch Manager, I am always reminded how involvement and continued education led me to the path I am currently on.
I am a member of the Chamber Executives of Ontario and Chamber of Commerce Executives of Canada. My municipal involvements have provided a voice on the recent Business License Review Committee and Capitol Theatre RFP Committee, as well as many others over the years. I have contributed to numerous community groups and organizations including participation with the inaugural 'Positivity Day in CK' Steering Committee. I'm a proud Past Director of the Board with the YMCA of Chatham-Kent and was Chair of the Building Committee for their new location. For many years, I was a member of Rotary and now enjoy being a 'freelance' volunteer where I can.
As a lifelong resident of Chatham-Kent, I am very happy enjoying all that our Municipality provides. The lifestyle, cost of living, amenities of waters, trails and landscapes, the wonderful year round climate and the relaxed, stress free travel times makes it easy to appreciate Chatham-Kent for all it offers.
I have 3 philosophies that I adhere to: 1. Work hard, and have some fun doing it 2. Mistakes are made only by those who try. And, 3. Believe. (in yourself, your community, your passions…)